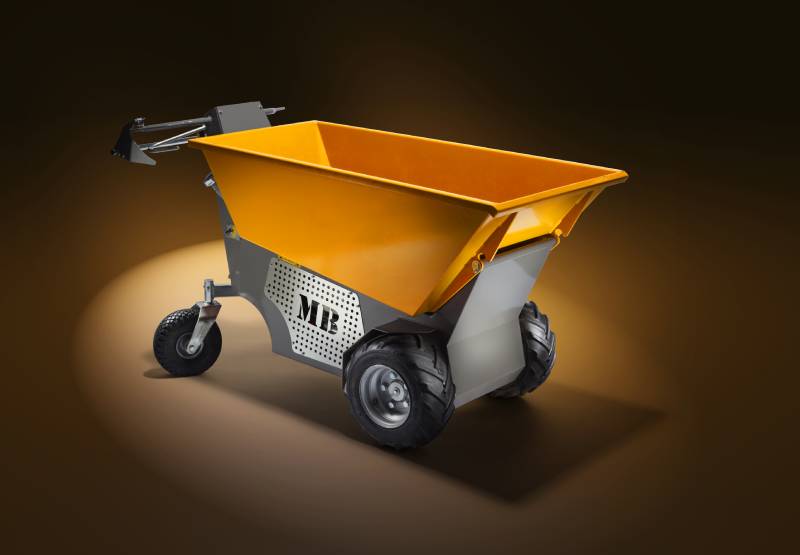 Optimise material transport with a fully hydraulic wheelbarrow
The Mini Dumper offers you a reliable alternative to the traditional wheelbarrow, giving you a machine that is simple to operate and easy to maintain going forward. A motorised wheelbarrow is an excellent investment for landscape gardeners, contractors, developers, farmers, master masons and plant hire companies, where heavy material and manual transport are part of the workflow.
With this helper, the manual transport of materials such as bricks, sand, soil, construction waste, etc. will be easy for you and your employees to handle on the construction site, at the stable or in the garden. You don't have to worry about the machine getting stuck, as it can cope with even the toughest surfaces. With its compact and flexible design, it can also be used in confined spaces.
With its good load capacity and robust materials, this multi-purpose wheelbarrow guarantees a wide range of potential applications and can be safely operated even with a full load. Its tip has full hydraulic transmission, making unloading easy, ergonomic and time-saving for the operator.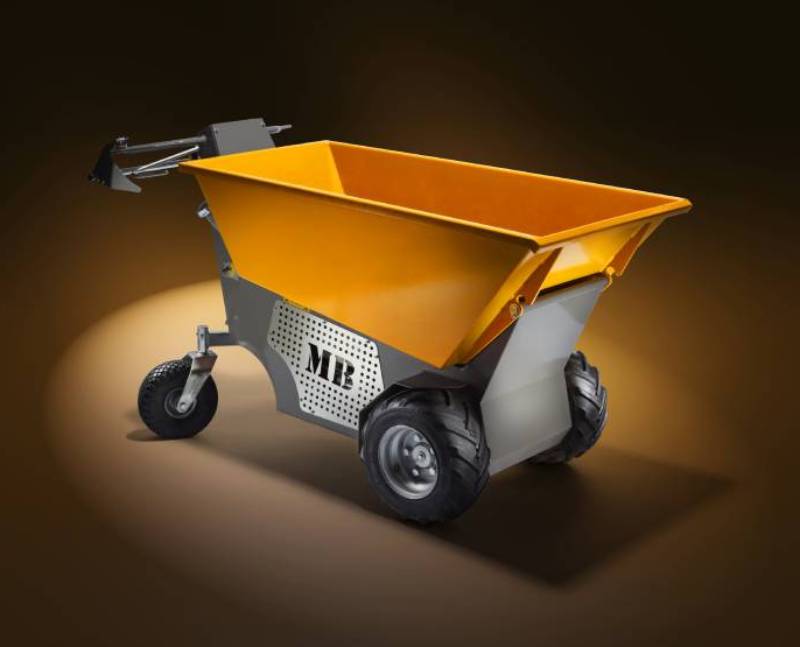 Time-saving transport
The Mini Dumper can transport up to 750 kg and has a load capacity of 425 litres, enabling you to transport a wide range of materials such as sand, bricks, soil, construction waste, etc. much faster than with a traditional wheelbarrow.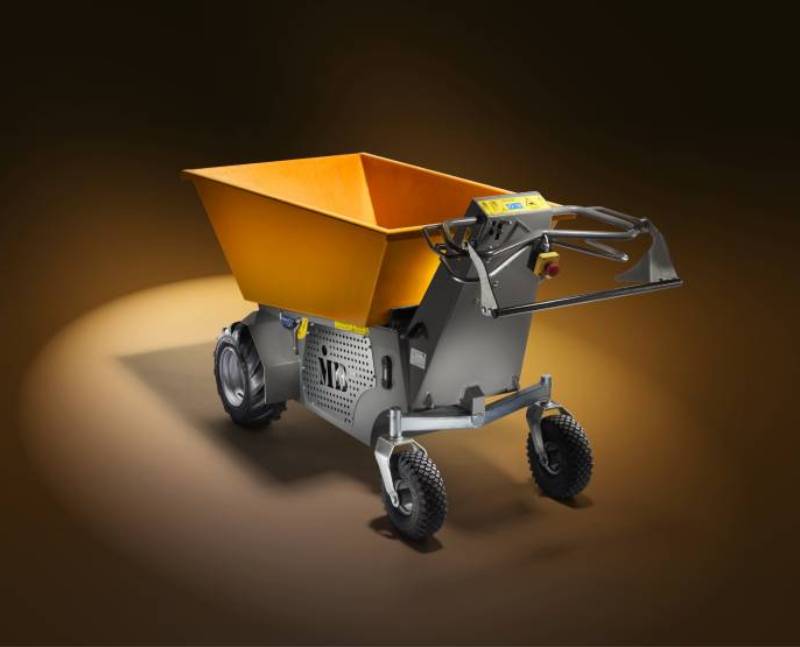 Compact design
You mustn't judge a machine by its size, and the same is true of our Mini Dumper. Because even though it's compact and flexible enough to make its way into smaller places, it's been produced with a strong construction that gives you a robust piece of machinery.
Safe operation
The machine is CE-approved in accordance with the latest rules, so you and your employees can safely use the Mini Dumper for your work, regardless of which materials are to be transported and on which surfaces it has to run.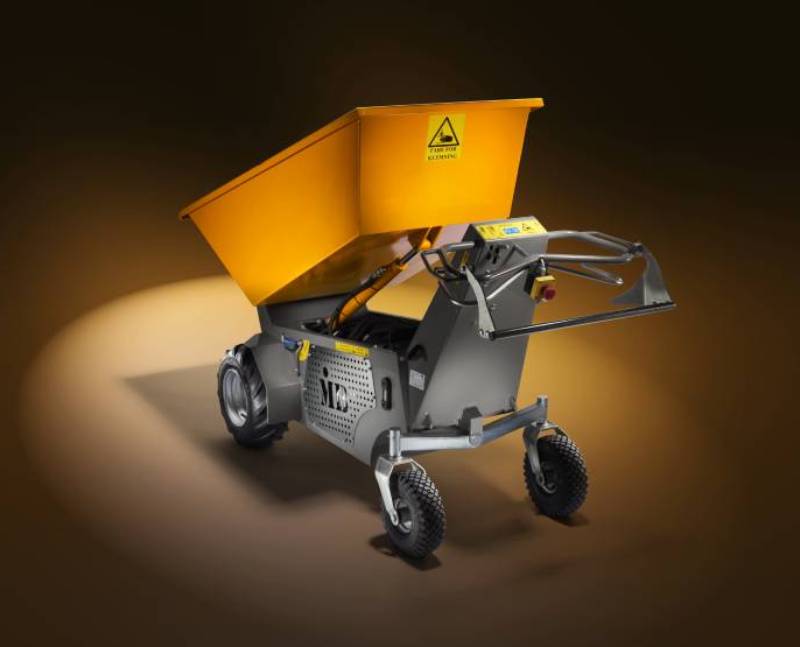 Ergonomic handling
The multi-purpose barrow is hydraulically powered and equipped with a fully hydraulic high-tip transmission, which is managed and controlled via an ergonomically designed control panel on the machine itself. This makes it easy and comfortable to use.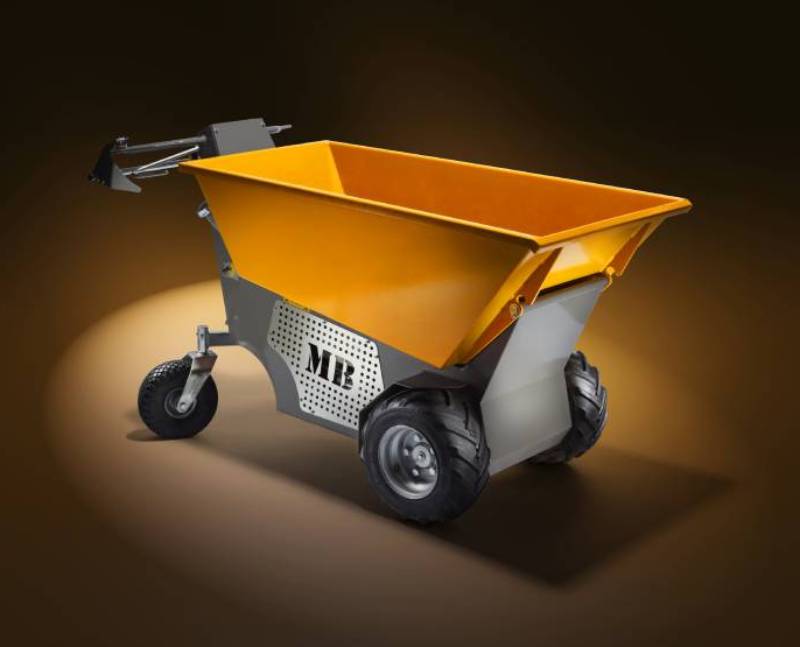 Width: 800 mm
Length: 1,800 mm
Height: 1,030 mm
Loading height: 940 mm
Unladen weight: 265 kg
Load weight: 750 kg
Load capacity: 425 litres
Engine: 6.5 hp petrol engine (electric start)
Petrol tank: 3.6 litres
Tip on load: Hydraulic cylinder
Hydraulic tank: 14 litres
Front wheels: 400 x 160 mm (tractor tyres)
Rear wheels: Fork wheels 300 mm
Pull: 2WD (front-wheel drive)
Transmission: Hydraulic
Max. speed: 7.2 km/h
Contact us to find out more about our hydraulic multi-purpose barrow
If you too are tired of using a traditional wheelbarrow at work, or want to find out more about our hydraulic mini dumper, don't hesitate to contact us. You can do this by completing our contact form, calling us on +45 70 20 40 49 or sending an email to info@maskinudstyr.dk.